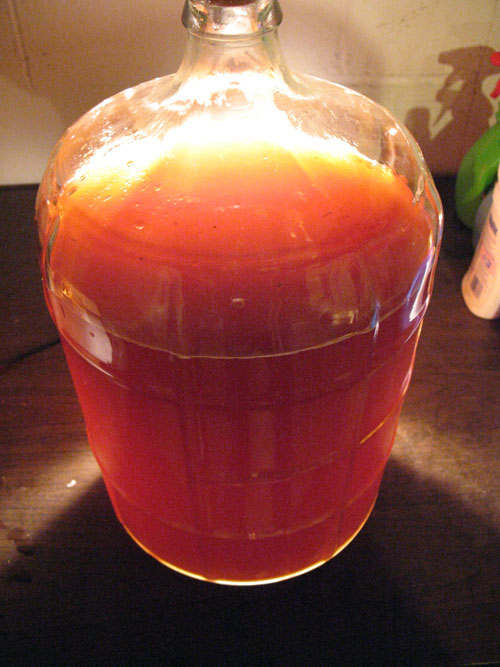 Some people have asked what I'm brewing now. Over autumn I added additional fermenters (5-gallon buckets and carboys) to my productive capacity, which has allowed me to accelerate both production and experimentation with new recipes.
I also have a lot to celebrate soon — the holidays, my older son's bar mitzvah, my younger son's birthday, and a new child's birth, God willing.
Long story short, I've been brewing a lot of beer lately, and it's been hard for my friends (and me) to keep track of what will be on tap when.
Bottled and drinkable:
Conditioning in the bottle:
In the secondary fermenter:
Ferocious — a Surly Furious clone that Midwest Supplies formulated with the help of the furious folks at Surly Brewing, drinkable early January
Imperial stout — a thick, hoppy, high-alcohol substance to be bottled late January and best served after 1 month to 1 year in the bottle
Mead — a kind of wine made from fermented honey, possibly the earliest known alcoholic beverage, favored by Beowulf and his chums, ready by Rosh Hashanah (next fall)
In the primary fermenter:
Roggenbier (pronounced like bloggin' beer, not like Seth Rogen beer) — "rye beer", actually mostly a wheat beer with the addition of rye malt that supposedly gives it a crisp, tart finish, good on a hot day, but this batch will be drinkable mid-January
On deck:
…both hopefully ready for the bar mitzvah and birthdays in late January and early February.
If you've noticed a heavy emphasis on wheat beers, there are two reasons. First, wheat beers are easy to make and don't take too long (4-6 weeks) from the brew pot to the glass. Second, my wheat beers to date have been wildly popular, appreciated by beer snobs and wine-preferrers alike, I think because of the dearth or absence of aromatic hops in the recipes. I like ferociously hoppy beers myself, and the imperial stout and Surly clone will fit the bill, but everyone likes a good hefeweizen, even people who usually hate the taste of beer (like my wife).
After all the high-volume celebrations are over, I plan to spend a few batches in a hoppier place — double IPA, anyone? — and experiment with more of my own recipes, including finding a good style to support the addition of garam masala to the brewpot and my first chili pepper beer.
A final note: I'm always looking for empty beer bottles. I'll be bottling 8-12 cases of beer over the next six weeks, and even with the holidays coming, I can't drink that much myself. If you can set aside for me any pop-top (not twist-off) beer bottles you "generate" I will be much obliged.
Tags: beer, brewing, ferocious, hefeweizen, homebrew, imperial stout, mead, porter, roggenbier, surly furious, wheat beer